The unique technologies of D3O® provide a versatile and flexible material for a wide range of impact absorption and fall protection applications. Under impact (let's say, a fall), the soft D3O® material hardens and absorbs the shock. In this way, it protects your body without compromising on comfort. Fall protection from D3O® material, is one of the most flexible and discreet protection on the market, and is consistently better than traditional foam-based materials.
The Airwave Technology of the D3O® Viper Stealth back protector is extremely flexible and very light, while providing you with incredible protection. Because the back protector is soft under normal conditions, it adapts to your body making it virtually imperceptible. The D3O® Viper Stealth Back protector is CE certified and has the following features:
D3O® patented technology.
Complies with the EN1621-2:2014, Level 2 homologation regulations, including optional cold test at -10 degrees.
Suitable for use at temperatures up to -20 degrees.
Breathable and flexible.
Airwave Technology for better airflow.
Ergonomic design for comfort and protection.
Full back protector with maximum coverage.
Thickness: 18mm.
Available in 4 different sizes, determined by the length of the torso (cm).
Some more tips:
Make sure to check the size of the insert that is provided in your jacket to integrate the back protector.
The back protector cannot be cut and must fit to be able to fully exercise its safety function.
The back protector must at all times remain in the correct place, without slipping.
For optimal comfort the ribbed side is worn against the back.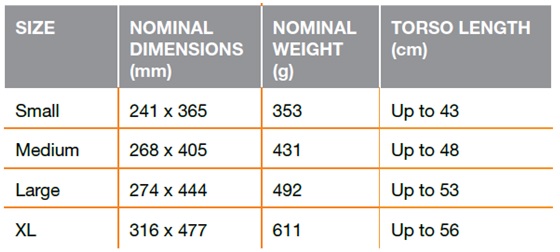 Read more