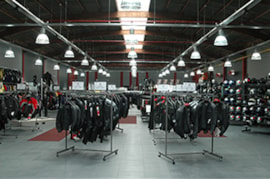 4,8 (2072 Google reviews)
Contact details
Sint-Pieterskaai 14, Ring van Brugge
8000 Brugge
Tel: 050/31.39.83
Email: info@rad.eu
Customer service
Opening hours
| | |
| --- | --- |
| Wed 06 Dec 2023 | 10:00 - 18:00 |
| Thu 07 Dec 2023 | 10:00 - 18:00 |
| Fri 08 Dec 2023 | 10:00 - 18:00 |
| Sat 09 Dec 2023 | 10:00 - 18:00 |
| Sun 10 Dec 2023 | Closed |
| Mon 11 Dec 2023 | Closed |
| Tue 12 Dec 2023 | 10:00 - 18:00 |
| Wed 13 Dec 2023 | 10:00 - 18:00 |
| Thu 14 Dec 2023 | 10:00 - 18:00 |
| Fri 15 Dec 2023 | 10:00 - 18:00 |
| Sat 16 Dec 2023 | 10:00 - 18:00 |
| Sun 17 Dec 2023 | Closed |
| Mon 18 Dec 2023 | Closed |
| Tue 19 Dec 2023 | 10:00 - 18:00 |
| | |
| --- | --- |
| Mon 25 Dec 2023 | Closed |
| Mon 01 Jan 2024 | Closed |
If you are looking for motorcycle clothing or accessories in West Flanders, you have found the right place.
In Bruges, more specifically along the Sint Pieterskaai, you'll find the pre-eminent motorcyclist's paradise:
Over 1000 m² of shopping delight where you can find everything for the biker and his motorcycle.
If you live near the coast, in the Westhoek, Ostend, Nieuwpoort, Veurne or De Panne, then you can easily reach us via the E40.
Also Torhout, Roeselare, Ypres, Kortrijk and the Rupel region are only half an hour's ride away.
Also from the Polders, Blankenberge and Knokke we are easy to reach via the expressway.

Our range is without a doubt the most extensive in the BENELUX!
From motorcycle helmets to top and side cases, from locks to brake pads, turn signals and spark plugs for your specific motorcycle.
We also have a large range of women's clothing and even children can find their perfect motorcycle gear with us.
Big sizes or small sizes, big budget or small budget, everyone is welcome at RAD!
If you do your own maintenance and are looking for spare parts or just want to pimp your bike, RAD is the place for you! Or simply order spare parts through our webshop.
You can easily find the right parts for your specific motorbike online thanks to our convenient product finders.
That ensures you the parts you order will fit.

RAD has made its service a top priority for the past 30 years now and will continue doing so!
Come visit us, enjoy a cup of coffee and have a great time!