Fog lights and headlights for motorcycles
Because the 'standard' look of your bike can also be a bit too basic, we have spotlights and fog lights for you. Your visibility on two wheels is crucial. A pair of well aimed headlights will also make you see a lot further and better on unlit back roads. Nowadays streetlights are increasingly turned off at night, so these auxiliary lights are no luxury.
Another plus is that it gives your steed an instant dose of added adventure vibes.
GIVI offers only a limited number of specific mounting kits. However, you can easily mount the fog lights and headlights on most crash bars (21mm to 25mm diameter). Choose 'I don't need a mounting kit' or click here.
This universal spotlight set adds a little more extra visibility to the motorcycle. The anodized aluminium housing is sturdy and stylish.
The light beam is good for 990 lumens per LED light, placing the spotlights firmly in the 'more than okay'-category. The power output is still only 10 Watt...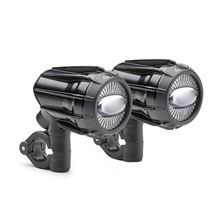 The new GIVI S322 are certified fog lights in a tough-looking, completely black housing.
This set of top quality fog lights or spot lights provides a powerful 1250 lumen beam and 6500° Kelvin per bulb, as well as a few other advantages.
The LED technology and waterproof aluminium hou...
This set of universal spotlights in hard plastic can be easily mounted on crash bars or other tubes with a diameter of 21 to 25 mm. The powerful halogen bulbs (12V-55W-H3) provide two bright beams of light. Bright, but without the typical white glow of LED lamps. The S310 uses incandescent light bul...