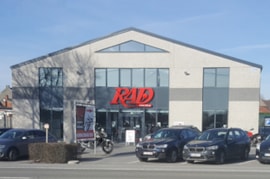 4,8 (1894 Google reviews)
Contact details
Grand Route 274A
7530 Gaurain-Ramecroix
Tel: 069/60.89.02
Email: info@rad.eu
Customer service
Opening hours
| | |
| --- | --- |
| Sun 01 Oct 2023 | Closed |
| Mon 02 Oct 2023 | Closed |
| Tue 03 Oct 2023 | 10:00 - 18:00 |
| Wed 04 Oct 2023 | 10:00 - 18:00 |
| Thu 05 Oct 2023 | 10:00 - 18:00 |
| Fri 06 Oct 2023 | 10:00 - 18:00 |
| Sat 07 Oct 2023 | 10:00 - 18:00 |
| Sun 08 Oct 2023 | Closed |
| Mon 09 Oct 2023 | Closed |
| Tue 10 Oct 2023 | 10:00 - 18:00 |
| Wed 11 Oct 2023 | 10:00 - 18:00 |
| Thu 12 Oct 2023 | 10:00 - 18:00 |
| Fri 13 Oct 2023 | 10:00 - 18:00 |
| Sat 14 Oct 2023 | 10:00 - 18:00 |
If you're looking for motorcycle clothing or accessories in Hainaut, you've found the right place.
In Tournai, more specifically in Gaurain-Ramecroix along the brick road between Tournai and Ath, you'll find the pre-eminent motorcyclist's paradise:
Over 1,000 m² of shopping delight where you can find everything for the biker and his motorcycle.
From the heart of Tournai you can reach us in less than 15 minutes, thanks to the N7.
Ronse, Geraardsbergen and Brakel are also just a stone's throw away.
From Mons and Valenciennes you can reach us in less than half an hour thanks to the E19 and E42.
The E403 brings you to us from Courtrai, Mouscron but also from France, Nord-Pas-de-Calais, Roubaix and Lille in less than half an hour.
You can also reach us easily from Douai and Lens.


Our range is without a doubt the most extensive in the BENELUX!
From motorcycle helmets to top and side cases, from locks to brake pads, turn signals and spark plugs for your specific motorcycle.
We also have a large range of women's clothing and even children can find their perfect motorcycle gear with us.
Big sizes or small sizes, big budget or small budget, everyone is welcome at RAD!
If you do your own maintenance and are looking for spare parts or just want to pimp your bike, RAD is the place for you! Or simply order spare parts through our webshop.
You can easily find the right parts for your specific motorbike online thanks to our convenient product finders.
That ensures you the parts you order will fit.

RAD has made its service a top priority for the past 30 years now and will continue doing so!
Come visit us, enjoy a cup of coffee and have a great time!