AFAM Drive chains for motorcycles
You don't have to be a qualified mechanic to change your bike's sprockets and chain. Above all, remember that the sprockets and chain should always be replaced at the same time. Replacing one and not the other is asking for trouble. Basically, you wait until the chain or sprockets need replacing, which is something you can easily check yourself.
Read more
Most sold products
Chain worn out?
Pull your chain from the rear sprocket and in line with the swingarm. If the chain is more than 0.5 centimetres from the sprocket, it needs to be replaced. See the picture below.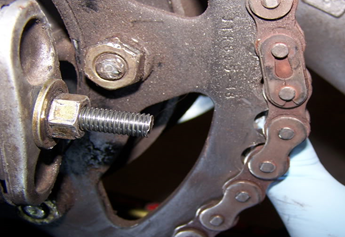 The manual of your bike tells you how much slack a chain must have and how you can adjust it. If the chain adjustment is at its maximum, but your chain still has too much play, then the whole set needs replacing.
Sprockets?
You never replace just the chain. The sprockets also wear out and you can see that - even as a non-expert - quite easily by the shape of the teeth. See the picture below, with from left to right a new sprocket, the expected wear and a worn sprocket.

The chain and sprockets wear in relationship to each other and at a similar pace. Wear on one part inevitably causes a similar degree of wear on the other half of this transmission duo. A new chain on a used sprocket, or a used chain on a new sprocket, will in both cases lead to accelerated wear of all the related components.
Extending life span
It is inevitable that sprockets and chain need to be replaced at regular intervals. However, you can extend the life of both considerably by lubricating them regularly and correctly. Chain spray and its use can be found here.
Regular lubrication is also the perfect time to check the condition of your chain and sprockets.
Effective replacement
If you think the chain and sprockets need replacing, don't put it off for too long. Again, you don't need to have a grade in mechanics to do this yourself. One (1) specialised tool will do: riveting tool.
You can also use a grinder to remove the old chain and with a screwdriver and some wrenches you can easily (dis)assemble the rear wheel and the sprockets.
The right chain set
The only thing missing at this point is the right chain set. Because every bike is different, our search engine helps you find the right set. Enter the brand, type and specifications and you will certainly find the right product.
Once you have found the desired chain set, click on 'technical specifications' to check again whether all details are correct. You will find the number of teeth, the type of chain, and the type of connecting link.