The parameters below will help you choose the right air filter for your bike, but why would you want to change the original air filter for a different style?
Because looks are important. The K&N universal air filters instantly boost the cool of any café racer, bobber, scrambler or custom. A lot. It gives it a personal touch and a more distinctive style. This doesn't only work with completely self-built bikes. Even an otherwise fairly standard model will benefit from this eye-catching component.
What's more: these K&N air filters guarantee better airflow and more power. In other words: a small adjustment with performance enhancing consequences. Even better, all these K&N universal filters are washable, so it will be the last time you replace a filter.
Universal air filters come in many shapes and sizes, and finding the right one for your project is no easy task. Use the filter options on the left side of the page to quickly find the perfect filter.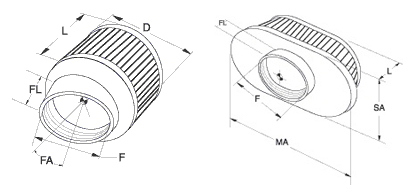 F Inside diameter of the flange: measure the diameter of the air intake of the carburettor or the injection housing and select the size. Doesn't the measured diameter of the carburettor/air filter housing fall within the suggested values? Don't worry, the rubber flange of the K&N filter stretches up to 1.5 mm to fit intermediate sizes.
FL Flange length: determines how far the flange of the filter can be slid over the air intake. It also determines the total length of your filter.
L Length of the filter element: determines, with the flange length, the total length of the filter. This value is important to know if the filter fits in the available space.
D Diameter of the filter: only applicable for round and conical filters. This value is important to know whether the filter will fit in the intended space.
MA/SA Height and width of the filter: only applicable to oval filters. These values will help determine whether the filter fits into the space provided.
FA Flange angle: some filters do not sit straight on the air inlet, but at an angle.
Read more