Headlight for motorcycles
In many countries you are required by law to ride with your lights on, even during the day. It increases your visibility and gives other road users a better chance to judge your speed.
Being seen
Regardless of the law, as a motorcyclist you should always ride as conspicuously as possible. Riding with running lights is just one part of that. Because keeping your lights on at all times means that it wears out a bit quicker. Keeping a spare around is therefore not a luxury. Replacing the bulbs yourself is often quickly and easily done.
Read more
And seeing
Being able to see yourself is also a bonus. Your headlight is the most important component when it comes to that. As standard, motorcycles headlights disperse a yellowish light in a relatively fixed beam. If you want more light or more colour, you will find all possible options right here.
with the right lamp!
Motorcycle lamps have specific properties and come in different types. The easiest way to know which bulb you need to replace the defective one on your motorcycle is to remove it first. Type and model can generally be found at the bottom of the lamp, as shown in the picture.
If the type is not mentioned, you can compare the base with the drawing below and determine the type of the lamp.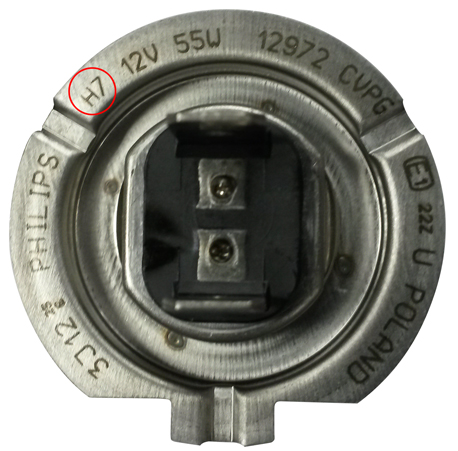 If the type is not mentioned, you can compare the base with the image below to determine the lamp type.

Once the lamp type is determined, the filter options on the left of this page will help you find the right replacement. And remember, apart from the fine, having a spare with you is first and foremost a form of safety.