GIVI Tool box for motorcycles
In general, today's all-road bikes are properly maintained and primarily used to ride to your place of work. That means you probably won't need tools very often. Modern motorcycles are very reliable.

Still, having a little bit of room for some small items or tools is always nice to have. Some things you don't want to be rattling around in your side pannier, or maybe you are going on that long, long journey, and need to be prepared for anything.
This toolbox can only be mounted with a specific holder. If your motorcycle is not listed, then we don't have a mounting system for your motorcycle.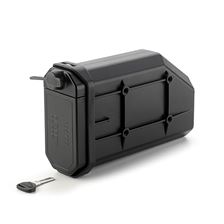 The accessories are not included but are for illustration purposes only.
Every available space in the side or top panniers is valuable. Those who still want to take some necessary tools with them, it is best to use an extra toolbox. There are many - often soft - versions for customs and...