Hello, we are busy dotting the i's and crossing the t's on the English description of each product. In the meantime, we are already giving you the automatic translation. Thank you for your understanding. Should you have any questions regarding this product, please contact us at info@rad.eu.
We wouldn't wish it on anyone, but being able to administer the most essential first aid can be interesting when you're on the road with your motorcycle. And don't imagine life-threatening situations: a sharp spare part or getting too close to that hot exhaust, it's enough to be annoying.
This, for all intents and purposes empty, first aid bag by Hero allows you to carry the most necessary, even when your bike is not equipped to carry a lot of extras. The red, waterproof bag is about 14 by 15 centimeters and generally fits under a saddle. The closure - think of a roller bag - with velcro keeps everything dry and tidy, so you can have plasters, gloves, some sterile material or a wound cream at your disposal if necessary. With welded seams, made of PVC coating (100% Tarpaulin) and equipped with the roller closure system, you can be sure that you'll find everything dust and waterproof.
What you put in it, you decide for yourself. Here the bag is empty. If you prefer a ready-made first aid kit that immediately contains a few things, then you can go here for a filled one.
Dimensions: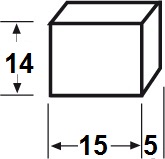 Read more